One of my new favorite blogs this year is authored by Danielle over at
Take Heart
.
I couldn't even tell you how I first stumbled upon her space, but I instantly became hooked. She is the kind of girl that I could definitely hang with in real life. Not only is her blog adorable, but she has impeccable style. This is the very reason that I knew, when she first posted about her
headband swap
, that I wanted to be a part!
Surely
, all of her followers were stylish, too. It was a no fail situation!
I was paired with Alison from
aPearantly Sew
. I chose a couple of headbands from one of our local favorites-
JillyBean Designs
- to send her. It was fun to wait for the arrival of my package- wouldn't you agree that it's always fun to know something fun is on its way for you in the mail? I think so.
I was thrilled with what Alison chose for me! I received two headbands and two hairpins, and the girls and I had a blast modeling them for the purposes of this wrap-up post!
Tink modeled the grey rosette elastic headband:
Sassy modeled the hairpins:


And I modeled the rigid multi-colored button headband:

Yeah for headband awesomeness!

You can check our Alison's blog and shop by clicking below...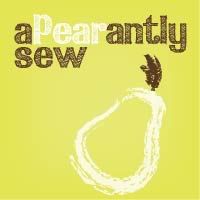 Thanks, Alison...


We

♥

our new hair accessories!